3D Mobile Inspector FREE companion app may be installed on multiple compatible devices. You may demo the app interface without Cloud3D Services, but must activate a personal Cloud3D servicesaccount to transfer real inspections between your 3D Inspection System software and 3D Mobile Inspector app over your internet connection.
 
3D Mobile Inspector Videos
Mobile app related articles

To get started (each step outlined on this page below):
A. Install 3D Mobile Inspector on your compatible phone or device.
B. Demo the interface!
C. Activate your personal Cloud3D Services account. Wait for your confirmation email.
D. Use Office Management to transfer reports to/from your device.
ANDROID 4.4+: Use Play Store to search for "3D Mobile Inspector"   Store Information
Note: Older "Phone3D" mobile app is deprecated but still available for use on an old device, or in certain locales where 3D Mobile Inspector may not be available. However, "3D Mobile Inspector" is recommended on any compatible device where available.
iOS 10.3.3+ (iPhone or iPad): Use App Store to search for "3D Mobile Inspector"   Store Information
WINDOWS 10 TABLETS: Use Microsoft Store to search for "3D Mobile Inspector" in Apps.  Store Information. Mobile app works the same as it does on other platforms and requires Cloud3D Services to transfer reports to/from your desktop program though the cloud.  Your desktop program may be installed on another computer or also on the same computer as the mobile app that meets desktop program requirements. 
B. DEMO THE INTERFACE
After installing, open a Sample report to demo the 3D Mobile Inspector interface.  Larger tablet devices work in portrait and landscape modes.  Phone sized devices work in portrait mode.  Photos may be inserted on all devices in landscape or portrait orientation.
The Sample residential report allows you merely to demo the interface.  When using 3D Mobile Inspector with your personal Cloud3D account, you'll use your OWN customized forms from your main software.

View 3D Mobile Inspector Interface Tips Here
 
Questions? Ask us here: http://www.3dinspection.com/tech-support/index.html 
C.

CLOUD3D

SERVICES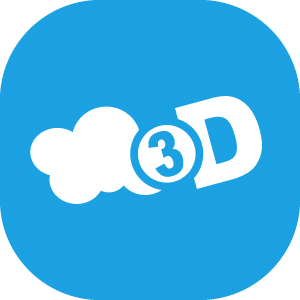 Learn more about Cloud3D Services 
 
  Activate Cloud3D Services:
1. Click Here to sign-up for Cloud3D Services.  You or your employer must have an active subscription to use Cloud3D Services. If you have not yet purchased the software, contact sales about your option for a limited trial offer.
2. 3D Inspection Systems will email you when your account is enabled, after which you may begin using it.
Login with your User name (Activation ID/Account ID email used during initial activation of your desktop software) and password when sending or retrieving reports, or the login provided to you by your employer if you belong to a multiple inspection firm.
Multiple Inspection Firms:  Employers MUST add and manage the inspector logins from the report writer Preferences Cloud3D Services tab in the main software using the master login, including for the owner/operator if also an inspector.  The master login should NEVER be used to log in on a mobile device.  Each inspector using Cloud3D Services should ONLY use the sub-account login assigned to them on their mobile device to avoid accidentally overwriting others' reports.  Inspections should always be created from and converted back to the same main computer, which generally would use the master login.  How to Manage Sub-Accounts
 
D. USE WITH 3D INSPECTION SYSTEM DESKTOP SOFTWARE
*Cloud3D Services must be enabled (see step C. above)
Send a report to your device:
1. In your job in Office Management, make sure the job is assigned to the desired inspector.  Select the job and use the activity in the right pane to "Create and upload mobile inspection".
2. Select a job name assigned to the inspector and the form group to use for the report, and login when prompted.  Your inspection and inspection date and time entered for the job is uploaded for handy viewing on your device.

Use a report on your device:
1. In 3D Mobile Inspector, login using your Cloud3D ID and password.
2. Tap the desired Pending report(s) and Download.
3. Open and Inspect!  See 3D Mobile Inspector Interface Tips
4. When finished with your report, Back out of the report to the inspection listing.
5. Tap the inspection on the device and Upload.  The inspections on the server listing shows the current status of any given report sent to Cloud3D Services.
Retrieve the report back into your regular PC 3D Inspection System:

1. In Office Management toolbar, tap "Retrieve Mobile Inspection".
2. Select the desired "Completed" report and OK to convert it into a regular inspection in the desktop program.

Special Note about limited graphical forms (WDO, Wind Mitigation, HUD, etc.): 3D Mobile Inspector works exceptionally well for regular narrative style forms used for most inspections.  However for special graphical forms that print a special pre-designed hard-coded layout, please note the following caveats. 3D Mobile Inspector does not know if a form is designed to print graphically, so do not use the copy heading or subheading option because graphical forms can only print existing fields on the final printout.  Only insert photos into any fields specifically previously designated to accept them, as they will not otherwise work. Only insert a single photo into each such designated photo field.  Where a photo section is available in a graphical form, usually there are multiple fields for inserting photos separately.  None of these restrictions apply to regular narrative style form groups. (To verify whether a particular form group is graphical or not, switch to the regular Report Writer and click File > New Inspection to view your forms groups. White icons in the listing are narrative; Yellow icons are graphical)