In an understandable attempt to eliminate annoying spam, over-zealous email filters can inadvertently dump emails you want to receive, including newsletter subscription requests or important emails or replies you requested. Even 3D Inspection System users occasionally contact us saying they never received a recent software subscription or reply to a question or ticket. When subsequent resends or replies back are also dumped unceremoniously by their email, this compounds the problem of reaching them. How can you "whitelist" emails you want to receive?
 
What is a whitelist?
Many spam filters that come with email clients have both white and black (or block) lists of senders to check for in emails. Your "whitelist" is the list that contains the email addresses of those you do in fact deem acceptable to receive email from and do not want to automatically go to the trash folder. Some services simply require accepted addresses be in one's address book, while others require that you manually add addresses to a particular "approved", "safe", or "allowed senders" list. If a white list is exclusive, only email from those on the white list will get through. If it is not exclusive, it prevents email from being deleted or sent to the junk mail folder by the spam filter.

Regardless of what the feature is called, mail from the listed email addresses, domains, and/or IP address on such a whitelist should always be allowed through. Some Internet service providers also sometimes use whitelists to filter incoming email, but it's usually end-users that set spam filters to actually delete all emails from sources not on the white list. Using whitelists and blacklists can certainly assist in blocking unwanted messages and allowing wanted messages to get through, but they are not perfect. So email whitelists can greatly reduce the incidence of false positives (items dumped as junk when they are not) by assuming that most of your legitimate mail will be from a relatively small known group of senders.

Best practices and whitelist etiquette
When signing up for an online newsletter, mailing list or Web site service, immediately add their email address or dot com domain to your approved or white list. This will ensure smooth communications with you and that emails will get through with the information you requested or confirmations necessary for you to acknowledge your request.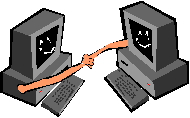 If you initiate a request for contact, it is your responsibility to promptly add the other side's email address or domain information to your whitelist. This courteous step prevents those from whom you have requested information or services from being annoyed by having to follow special verification email instructions just to get you the information that you requested. Don't count on everyone responding to automatic verification emails, if such are even sent out from your email, as many simply don't or can't (automated subscription systems).

Before getting upset because you believe someone didn't respond, check to see if their email was inadvertently deleted or sent to your Trash, Junk, or Spam folder. Upon finding any such emails in those folders, add their information to your whitelist immediately. Why look like a jerk by becoming belligerent about a supposed lack of response when in fact a response was sent and you just didn't clear the way for the email to be accepted or allowed through. Don't make email inconvenient, but allow it to be efficient communication tool everyone will appreciate.

Whitelisting and contacting 3D Inspection Systems
To ensure that your emails reach 3D Inspection Systems, use the contact forms on our website. Since 3D web contact forms get sent to us from our own domain they won't get filtered out as could happen with a direct email, not to mention contact initiated through 3D's web forms also receive top priority over general emails.



To ensure you don't miss out on subscription upgrades or replies from 3D Inspection System technical support or main sales office, you should "whitelist" our main email addresses shown here or the general 3dinspection.com domain.

How to whitelist
Not sure how to whitelist an email contact? The next page has general instructions for the most popular email clients or services. Find the services(s) you use so you know how to whitelist the folks you want to hear from!

Go ahead and use the information to whitelist the 3D addresses shown above right now. You may want to do the same thing for agents or other professionals with whom you have dealings on a regular basis to makes sure any important contact from them isn't treated as junk.

How to whitelist in popular email clients or services
The general information here is subject to change or may vary, but should give you a general idea how to add contacts to your whitelist for the most popular programs. Check instructions for BOTH your email client and any security software you also use as some software may block emails before they even reach your email inbox.

AOL, ATT, Comcast
Simply add the email address or domain name you wish to whitelist to your address book.
Note that AOL has a reputation for arbitrarily blocking or discarding email that other email providers readily accept, so whitelisting may not be enough to ensure you receive all emails.  In addition, using a dated AOL email could be harming your business reputation, as noted by many articles over the years. e.g. http://computertutorflorida.com/2012/01/why-you-should-switch-from-aol-to-gmail/
http://www.ifp.org/resources/what-your-email-says-about-you/#.VvQEvcKFOM8
http://www.laymusic.org/wordpress/?p=1012
http://johnaugust.com/2010/why-email-addresses-matter
http://www.huffingtonpost.com/2011/03/10/what-your-email-address-says-about-you_n_834093.html
http://www.askamanager.org/2013/02/is-your-aol-or-hotmail-address-hurting-your-job-search.html
http://www.business2community.com/branding/aol-email-address-brands-you-as-technologically-obsolete-0275886#jhDbZuRv8mxdtVbC.97
http://gizmodo.com/5780416/what-your-email-domain-says-about-you
http://gizmodo.com/5552089/what-your-email-address-says-about-your-computer-skills
http://www.marketplace.org/2009/12/09/tech/omg-youre-still-using-aol-e-mail
...and so on.
Switching to a more respectable and reliable email than aol isn't necessarily hard and STRONGLY RECOMMENDED.  There are even guides online to make it easier, for instance:
http://yourbusiness.azcentral.com/import-files-aol-mail-gmail-5865.html
http://www.wikihow.com/Switch-from-AOL-to-Gmail
 
BlackBerrys
Scroll up to the message header
On the field where the name is listed, click the Berry button and then click Show Address
Select and copy the email address to the clipboard
Go into Address Book and find the user
Select Save
Click to edit it, and then click the Berry button to add another email address
Paste it in and click Save

CleanMyMailbox
Click on the White List button.
Add the email address you wish to whitelist to the bottom of your existing list.
Click Submit List.

If an email is filtered, from the spambox click on the white "W" icon on the left column of the mailing. When the pop-up window comes up, click Add to Whitelist.

Cloudmark SpamNet
From the Cloudmark SpamNet toolbar in Outlook select Cloudmark > Options.
Click Advanced > Whitelist tab > Add
Type the email address you wish to whitelist
Click OK > OK > Yes > OK.

Earthlink
Click on Address Book > Add. (Note: address book is on left, below Folders.)
On the Add Contact screen, find the Internet Information box.
Enter the email address you wish to whitelist into the top Email box.
Click Save.

Gmail
Simply Add email address you wish to whitelist to your Contact list.

Hotmail Live, Windows Live and MSN
Note: You may need to "Mark sender as safe" to enable hyperlinks even in text emails and images in HTML emails. If you get a notice "Attachments, pictures, and links in this message have been blocked for your safety. Show content " and/or "You may not know this sender. Mark as safe | Mark as unsafe " you may click "Show content" to view the body of the email if it contains images and HTML or click "Mark as safe" to add the email address to your list of "Safe senders"

To Manually Add to Safe List:
Click "Options" in the upper right corner of your Hotmail screen
In the Body of the page under "Junk email" click the link "Safe and blocked senders" (or Safe List)
Click the link "Safe senders"
Enter the email address you wish to whitelist
Click "Add to list"

If you see a message that should not be in your Junk Mail folder, click 'This is not Junk Mail' or "Mark as safe"

McAfee Spamkiller
Click Friends from the sidebar.
Click Add, type in email address you wish to whitelist
Click OK.

MSN
Click on Settings: Email > Junk email (bottom left, above Calendar)
On the Email settings screen, click Junk Email Guard.
Select Safe List.
In "Add people to the safe list," enter the email address you wish to whitelist.
Click Add.

Outlook 2003
Add the email address you wish to whitelist to your Safe List and to your Personal Contacts in your Outlook Address Book. Or open an email and select Mark as Not Junk.

Mailblocks
Click the Addresses tab > New
Type the email address you wish to whitelist
Make sure 'Accept Mail From This Address' is selected under Receiving Options.
Uncheck 'Display in People Picker' under Other options.
Click Submit > OK.

MailShield
Click Friends from the toolbar > Add.
Type the email address you wish to whitelist
Click OK.

MailWasher
Click Tools, Ten Blacklist & Friends.
Click Add... on the right, the Friends list side.
Make sure Plain email address is selected.
Type the email address you wish to whitelist
Click OK > OK.

McAfee Spamkiller
From McAfee SpamKiller sidebar, select Friends
Click Add a friend.
Make sure All users at a domain is selected under Friend Type.
Type the domain name you want to whitelist under Address.
Click OK, Click OK.

Mozilla Thunderbird
Click Address Book button
Make sure the Personal Address Book is highlighted
Click New Card button. This will launch a New Card window that has 3 tabs: Contact, Address and Other
Under the Contact tab, enter the email address you wish to whitelist and click OK

Norton AntiSpam
Start up Norton AntiSpam
Click the Status & Settings tab
Click AntiSpam
Click Configure
Click Allowed List tab
Click Add button
In the 'Email Address' box, enter the email address you wish to whitelist
Click OK, Click OK

Oddpost
Check your 'Probably Spam' folder.
If you see an email you wish to whitelist, select it and click the 'Move to Inbox and Mark as Not Spam' button.

SpamButcher
Click the Configure button > Known Senders tab
Click Add under 'Known Good Senders and Recipients'.
Type the email address you wish to whitelist
Click OK > OK.

SpamCop
Open your browser and go to: http://webmail.spamcop.net
Log into your SpamCop account.
Click on the Options icon in the toolbar.
Under Mail Management (in the middle), click SpamCop Tools.
Select Manage your personal whitelist.
Near the bottom, click where it reads "Click here to add to your whitelist"
Enter the email address you wish to whitelist in the first empty slot.
Click Submit.

Spameater Pro
Click Filters from the sidebar > Approved Senders tab.
Click Add Filter.
Type the email address you wish to whitelist under Address.
Choose 'Full Email Address' under Address Type.
Select Email Domain.
Click OK.

Spam Inspector
Select Spam Inspector, then 'Manage Friends List' from either the Spam Inspector toolbar or from the Outlook menu.
Make sure Email is selected under 'Add a New Friend'.
Type the email address you wish to whitelist
Click the > button.
Click Close.

Spam Interceptor
Follow the Trusted link under Authentication Lists.
Type the email address you wish to whitelist
Click Add.

Spamkiller
On the Spamkiller sidebar, click Friends.
Click Add.
Type the email address you wish to whitelist and click the OK button.

SpamPal
Click on the SpamPal system tray icon with the right mouse button.
Click 'Add to Whitelist' from the menu.
Type the email address you wish to whitelist
Click Add.

Spam Sleuth
Select File > Configure.
Go to the Friends category.
Make sure Active is checked.
Type the email address you wish to whitelist on a line by itself in the entry field.
Click OK.

If an email address has been filtered to your "bulk" folder, simply open the message and click on the "This is not Spam" link next to the "From" field.

Verizon
Go to your Verizon Inbox > click Options
Select the Block Senders tab (near top of screen).
On the Block Senders screen, you'll see both a "Block Sender List" and a "Safe List." In the space where it says "Enter email address or sub domain to always accept even if the domain is blocked," enter the email address you wish to whitelist

Yahoo! Mail
Open your Yahoo! mailbox.
Click Mail Options > Filters > Add Filter.
In the top row, labeled 'From header:' make sure Contains is selected in the pull-down menu.
Click in the text box next to the pull-down menu and enter the email address you wish to whitelist.
At the bottom, where it says "Move the Message To:" select Inbox from the pull-down menu.
Click the Add Filter button again.

Others
If an email address is being incorrectly filtered or flagged as spam, try adding the email's "From" and "Reply to" address to your address book or Contact list.

If messages continue to be sent to your junk folder, or your email program does not have a convenient way to whitelist folks, contact your spam filter application support or the customer service or Postmaster at the company that provides your email or Internet connection (your ISP). Explain to them that you want to receive emails from a certain contact and ask if they can whitelist them if you provide the email and domain information.