The popular Residential Checkstyle form set packaged with standard editions of 3D software (or downloadable from the Bonus Downloads web page), comes preset with ratings boxes for various inspection items: OK, MM, RR to represent whether items are Serviceable or functional, Marginal/Maintenance needed, or Repair or Replace respectively.

Don't like those ratings? No problem. They can easily be changed and adjusted to your own preferred Ratings system instead. How so?


How to Adjust Ratings
Although you may use the Custom Form Studio form Preferences options to set up ratings, you may also adjust ratings for an existing and future inspections directly from the Report Writer.
While a report is open, click Preferences > Modify Ratings.
Click "Ratings Setup Wizard"
"Specify your ratings" for selection in your inspections. For example, we could change the existing ratings to Good, Fair, Poor instead, or add one for Safety defects. Click Next.
"Select the style" to print ratings, and continue through the wizard.
For beginners we recommend the "Use check boxes" method, which may either be boxes or circles. Specify the style and rating header legend text you want on your printouts. We recommend short text so boxes are not spaced too far apart.
An optional "Use icons" method is also available, where you may use your own custom graphics or icons to represent your ratings on printed inspections. See help for details.
After completing the wizard, you may use the General tab option to set the "Position of the rating header in the report". This specifies where your basic Ratings header or legend prints in the report.
Click Preview to simulate how selected and unselected ratings will look on a final report. To make further adjustments, run the Ratings Setup Wizard again.
When satisfied, click OK in Modify Ratings to save and apply your changes. The changes immediately affect rated subheadings in the current report, and apply to future inspections after you compile your forms when exiting the program.
See the Help screen for further details about advanced ratings options available in some editions.

How to Turn Ratings on or off for Specific Subheadings
Perhaps you would like to adjust which inspection items in your report have ratings boxes. Ratings may be turned on/off for a particular subheading in a report any time:
Click directly on the subheading label in the report to Modify it.
Tick the box to Include Ratings. Deselect it to remove ratings from this particular inspection item.
If you want your change to apply to future inspections, also tick Modify in master forms
Click OK when done and your ratings will be turned on or off for the subheading as you specified
Tip: You may also turn ratings on for subheadings while editing master forms directly in the Custom Form Studio. This is usually quicker when setting up ratings for a group of forms that never used them before .


Don't Forget to Adjust your Ratings Definitions
If you've changed or added to your existing Ratings, don't forget to also adjust any long explanation you may provide for them in your report. Residential CheckStyle forms make it easy to include or adjust your rating definitions by providing a special "About Rated Items" Heading right in the first General form of the report. If using those forms, use these easy steps:
Click and hold the General form button and jump to the About Rated Items heading. You'll notice a defaulted Narrative menu item is preset to include the definition statements about Ratings automatically.
Click the Modify button in the Narratives menu area at the side.
In Modify Narratives, select "*Rating Explain" and Modify
Adjust the Narrative Text wording to your own definitions of the ratings you chose to use.
Click OK when done, and Exit.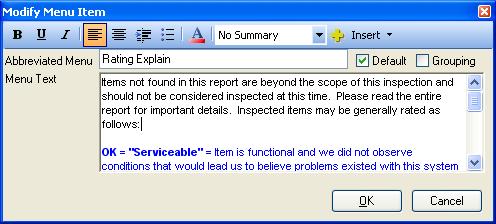 For the existing report, you may wish to remove the existing comment in the field, and select your changed menu item to import your updated definitions.

You may prefer to include a longer ratings description elsewhere in your report. For example, it may be ideal to include them with other standard information, perhaps as part of your index or another document you normally include with your inspections.

It's so easy to adjust your inspection Ratings, so don't be afraid to experiment a little until your reports use the perfect ratings criteria that suits your way of reporting.