Certified
CREIA
inspector and Volunteer Firefighter Rick
Hartmann
reveals that he used the free functional 3D Inspection System evaluation program to migrate his custom forms from another system before purchasing the 3D software. Rick created custom forms for different style homes to save time, and estimates he has saved an additional 15% in total inspection and reporting time by collecting data on site.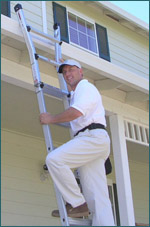 "I've been a 3D user for 3 years now. Before 3D, I used another reporting software program for 2 years, but had always struggled to make it look like "I" wanted it to look. We are creatures of habit, and once you are familiar with a reporting program, it's hard to break away from it....remember how long it took you to learn it? I started having issues with support with the "old" program and started shopping for a new one.
When I first tried 3D, I downloaded the entire, full-functioning program from their site for free and began to play with it. I spent a few hours, making a simple form and then printing it, just to see what things looked like. I liked what I saw. The more I tweaked my little practice form set, or should I say form, the more I knew that this was for me. But, most importantly, my clients would know it was from me. Meaning my report does not look like any other report that any other 3D user is producing. But how would I move all of the findings I had from the previous program....? Easy, copy and paste!
Before making the switch officially, I built all my form sets and got everything ready to go. I did a few practice reports and actually found that I could do the reports faster on 3D than the program I had been using for 2 years. I was really happy to learn, that after I officially purchased the 3D program, all of the form sets I had created, settings and my comment library could be used immediately. No re-doing anything.
Unlike any other program, I made a form set for the "perfect" house. One time, I completed a report, added 4 pictures, a cover page, my contract and e-mailed it to the buyer in 14 minutes. No joke. But those don't come too often. The point I'm making, how many software programs can you open, and have a report already complete? When you do a lot of the same style homes that often have the same features, you can easily create a form set for this type of home. If not much is wrong, the report is already done.
Always striving to do things faster and efficiently, I decided to go mobile. It's not a full-functioning version of 3D, but it does have my entire comment library on it. As I walk through a property, I check things off as I go and I found that it cuts my total inspection/reporting time down by about 15%. I love 3D!"
Rick

Hartmann

,

CCI


Home Inspection Plus, Inc.
Lincoln, CA
Website: http://www.homeinspectionplus.com